If anyone who doesn't know. Eliud Kipchoge is the greatest marathon runner of all time. With an official World Record PB of 2:01:39. He obviously also seemingly cruised to a time of 1:59:40 in the INEOS challenge, but due to the controlled environment and the shoes he wore, we wont discuss that so we avoid any controversy.
With the title of being the greatest marathon runner in history, along with being one of the best track runners of all time, Kipchoge's training methods are some of the wonders of distance running.
In this article we will touch on some of the most crucial aspects of Kipchoge's training as well as looking at a typical training week of his.
Where he trains
Some people blame their lack of success on the facilities available to them, the Kenyans utilise their lack of facilities to become the best in the World.
"The sun has barely started its ascent on a chilly morning in the Kenyan highlands and Eliud Kipchoge, a man who stops for nothing and no one, is forced to wait.
The problem is a puddle. There has been some overnight rain and, with the heat of the day yet to emerge, the back straight of the basic dirt training track has become one large mass of water.
The air is thin in this part of Kenya's Rift Valley and the world's finest collection of distance runners are primed for action after their 30-minute, pre-dawn drive from their Kaptagat camp to this university track in nearby Eldoret. But the puddle is in the way. So they stand and chat instead."
"It takes only a few hundred metres to realise that descriptions of the route as "flat" are wholy wide of the mark. The out-and-back circuit of 5km in one direction and 5km in reverse consists of merciless rises and falls more fitting for a rollercoaster."
(Telegraph – A run with Eliud Kipchoge: Avoiding cows and battling high altitude to train with the world's best)
Kipchoge's training log
The section below is from Sweat Elites article
The general structure of the training week is broken down by Patrick Sang in the second part of the documentary released by INEOS.
AM Easy to moderate run: 16-21km
PM Easy Run: 8-12km
Tuesday
Tuesday is usually a track session. They basically do two kinds of workouts on Tuesdays and cycle them in two-week blocks:
15km of goal marathon pace work.
15km worth of intervals at right around their goal marathon pace (so 2:55min/km for Eliud). This is actually a bit harder to do on dirt and altitude than on road at sea level, but of course that is part of the training.
Example workouts:
15x1km (90sec rest) in average of 2:50-2:55. They might start closer to 3min and end closer to 2:50, but the average is normally between 2:50 and 2:55.
12x1200m (90sec rest) in average of 3:24-3:30.
5 sets of (2km, 1km) in 5:40-5:50 and 2:50-2:55.
10-15km of interval work faster than goal marathon pace.
These are completed at speeds faster than marathon pace. Sometimes at more like 800m pace!
Example workouts:
12x800m in 2:10s (90sec rest), 10x400m in 62s (90sec rest).
1200m in 3:25, jog lap, 5x1km in 2:55 (1.30 rec), jog lap, 3x300m in 42-40 (1:00 rec), jog lap, 2x200m in 27s (1:00 rec)
20x400m in 64-65sec (50sec rest)
Wednesday
AM Easy to Moderate Run: 16-21km
PM Easy Run: 8-12km
Thursday
A Thursday for Eliud involves a long steady tempo run, cycling between 30km (18.6mi) and 40km (24.8 mi) and sometimes a second run, depending on how he feels / if a major race is approaching.
6.10 AM: 30km or 40km tempo run
Again, it's a 6:10am start for the group, from out the front of the camp in Kaptagat. The first 1-2km are, as usual, a build into the run. They'll clock the first kilometer at around 5:00 minutes (often slower) to get warmed up, by the 3rd kilometer, the pace is on.
From there on, it's 3:00-3:25min/km pace (4:50-5:20min/mi) depending on where they are. The route they take normally involves 90% hilly trails and around 10% road (mostly flat, sometimes small hills). On the flat road sections, the faster sections, the pace is right around 3:00min/km (4:50min/mi). When they hit the hills in the forest, the average pace is hovers between 3:15-3:25min/km (5:10-5:25min/mi) depending on how hilly it is.
Although this sounds very fast, many may be thinking "3:20min/km isn't his tempo pace (threshold)". However, the terrain they train on sits at 2400-2500m altitude (7800ft) and is very harsh. We estimate that you would expect to be running at 20-25sec/km slower at Kaptagat in the forest, than you would expect to run at sea level on a flat course. On the flat road sections up in Kaptagat, expect to run 10-15sec/km slower.
Here are the times of the tempo runs leading into the Berlin Marathon 2017:
Thur August 10 – 30.8km in 1:42 (3:20min/km average)
On this run, one section of the run was so wet, they needed to change course and they ended up just running back to the starting point, which ended up being an extra 800m.
Thur August 17 – 40km in 2:14 (3:20min/km average)
Thur August 24 – 30km in 1:38 (3:16min/km average)
Thur August 31 – 40km in 2:13 (3:19min/km average)
Friday
AM Easy to Moderate Run: 16-21km
PM Easy Run: 8-12km
Saturday
A Saturday for Eliud Kipchoge involves a fartlek (or to them "speed") workout in the morning, and either the afternoon off, or a second easy run of 10-12km if they feel up for it.
6.10 AM: Fartlek (on trails/road)
There are 7 different fartlek workouts Eliud Kipchoge uses in his training.
1. 10min reps with 2min rest. 4 x 10min is most common, sometimes they do 5.
2. 8mins reps with 2min rest. 6 x 8min is most common.
3. 6min reps with 2min rest. 8 x 6min is most common.
4. 4min reps with 2min rest. 10 x 4min is most common.
5. 3min reps with 1min rest. 13 x 3min is most common, sometimes they do 14-15.
6. 2min reps with 1min rest. 17 x 2min is most common, sometimes they do up to 20.
7. 1min reps with 1min rest. 25 x 1min is most common, sometimes they do up to 30.
The most common sessions used are:
* 4x10min reps (2min rest)
* 13x3min reps (1min rest)
* 25x1min reps (1min rest)
These seem to be used around twice as frequently as the others.
Paces in these workouts (during intervals) are difficult to report, as the routes they use are hilly, so reps of course vary a lot in speed. but on the flat surfaces, it's normally around 2:55min/km pace for the 10min reps, down to 2:45min/km for the 1min reps.
Warm up and cool downs for this workout aren't very long at all – normally just 10mins, sometimes up to 15mins. This surprised us. It's common in the western world to add on plenty of mileage in your warm ups and cool downs (some do up to 30mins of running) but for Kipchoge, this was short and sharp.
On one particular workout that we joined them (August 12th 2017 – 4x10min with 2min rest) the entire workout, start of warm up to end of cool down took under 1hr20mins. They jogged 2km in just under 10min, stretched for 2mins and got straight into it. At the end of the last rep, they walked for less than 2min before commencing the cool down.
PM: Usually they rest and don't run at all in the afternoons on Saturday, if they choose to run it is an easy run of around 8-12km.
Sunday
AM *Easy to Moderate Run: 18-22km
PM Rest
* There have been reports from the NN Running Team training camp that a recent change to the training program is a complete rest day on Sunday. It is unclear if this is every Sunday.
5The greatest rivalry in running
The glute exercise Kipchoge swears by
Add this to your pre-run routine to get your glutes firing.By JANE MCGUIRE22/08/2019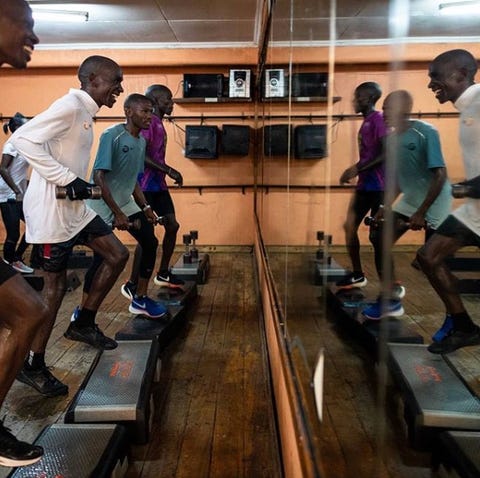 INSTAGRAM/KIPCHOGEELIUD
As runners, we're constantly being told we've got lazy glutes, but what does that mean and why is it important? Ultramarathon legend Nikki Kimbell explains, "when we run, the glutes hold our pelvis level and steady, extend our hip, propel us forward, and keep our legs, pelvis, and torso aligned. So when our glutes are faulty, our entire kinetic chain is disrupted. Studies link glute weakness to Achilles tendinitis, shin splints, runner's knee, and iliotibial-band syndrome."
In short, we should all be adding glute exercises to our strength training plans, and firing up the glutes before we head out for a run. But what do the pros do?
Kipchoge glute exercise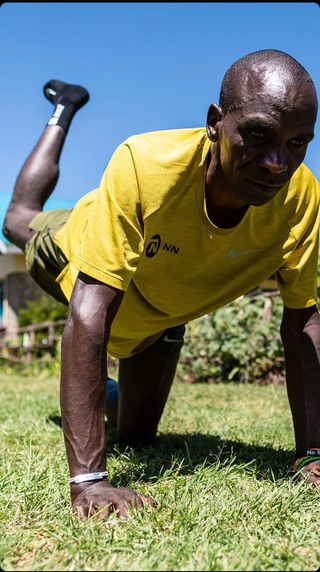 INSTAGRAM/KIPCHOGEELIUD
How:
Get into a table-top position. Your head should be looking forward and the bend of the knees should create a 90-degree angle between the hamstrings and calves.
As you exhale, lift your right leg up until your hamstrings are in line with your back, maintaining the 90-degree angle bend. Contract your glutes and hold at the top for a second.
Go back to the starting position and repeat on the other leg.
(Runners world)
We've also done an article on the Ingebrigtsen Training method so feel free to check that out.